The Jadwiga Dziubinska Group of Schools - Agricultural Education Centre in Goladkowo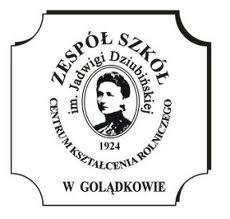 The Jadwiga Dziubinska Group of Schools - Agricultural Education Centre in Goladkowo (PL) is in existence close to 90 years. Since 1 Jan 2008, it has been administered by the Minister of Agriculture and Rural Development. The school offers a wide range of profiles, such as landscape architecture technician, veterinary technician, nutrition and food services technician, agricultural mechanization technician, agribusiness technician, horse breeding technician. On the vocational level students can acquire knowledge of two professions: mechanic – operator of farming vehicles and machinery, as well as cook.
Educational facilities for vocational training are mainly laboratories equipped with modern teaching aids. Practical activities are carried out according to the profession, either in modern and well equipped school workshops or in catering studios, as well as in various plots of a total area of ​​about 20 ha. Practical lessons in tractor-, car- and harvester driving are affiliated on a driving site, located on campus. Students have the opportunity to practice in manufacturing and catering companies, as well as specialised farms.
The school combines tradition and modernity. It educates young people with respect for tradition and history, equipping them with knowledge and skills that give graduates a good position in the labour market and also allows them to continue their studies at university or college.
The students can also develop passions associated with sports, horseback riding, folk dance, organic farming and many others. Through participation in a number of study trips, conferences and seminars, they update their knowledge and combine theory and practice.
Doubtlessly, the school's advantage lies in cooperation with research institutes and universities, providing students with unlimited access to specialist literature, new techniques and technologies.
J. Dziubińska Agricultural Education Centre
Golądkowo 41
06-120 Winnica
Poland
Fon. +48 (0-23) 691 40 73
Fax: +48 (0-23) 691 40 83