Thüringer Ökoherz e.V.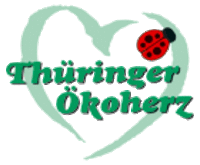 Thüringer Ökoherz is a development association which promotes ecological agriculture, landscape conservation and natural lifestyle in Thuringia, Germany. We stand for the conservation of nature as a livelihood for human beings, animals and plants. Furthermore, we try to apply the ideas of environmental protection to everyday life. The association was founded by 43 eco-pioneers in April 1991. We can now look back on 20 eventful years of varied activity.
The objectives of the Thüringer Ökoherz association are raising the awareness of our environment, demonstrating alternatives regarding sustainable ways of living and the advancement of ecological agriculture in Thuringia and Germany.
We aim to implement these objectives by:
1. supporting measures regarding the preservation of cultural landscape and biodiversity
2. organising and hosting exhibitions, local fairs, conferences and farm-based events
3. carrying out public relations work to promote ecological agriculture, ecologically-produced food and the natural lifestyle involved
4. designing and developing environmental education projects for children, young people and adults
5. providing education and training for farmers and administrators in the professional fields of ecological agriculture
6. representing our interests in the political arena
7. developing the Social Farming movement in Thuringia
In order to achieve these aims, we employ 7 full-time staff supported by almost 10 volunteers in our office in Weimar.
Thüringer Ökoherz e. V.
Schlachthofstraße 8-10
99423 Weimar
Germany
Tel.: +49 36 43 / 49 63 28
Fax: +49 36 43 / 49 64 07

E-mail: info@oekoherz.de
www.oekoherz.de